Inventory Deployment, Supply Chain Management Consultants in Chicago, USA
Inbound Logistics, Warehouse Networks and Supply Chain Consulting Firm in USA
We design and engineer supply chains that increase service and reduce costs.  This increases our clients' earnings and their market share.
We work for manufacturers, distributors and retailers. We orchestrate supply chain components – procurement, sourcing and inbound logistics; networks of plants, warehouses and stores; inventory deployment; transportation; operations within plants and warehouses; packaging; customer service; order processing and the systems that help these functions perform.
This breadth is important because these components interact with one another. Focusing in just one component runs the risk of missing better, more effective opportunities in others.
Chicago Consulting is an independent firm.  We have no outside affiliations or relationships that might compromise our objectivity.
The firm is headquartered in Chicago.  We have been in business for over 30 years.  A list of our clients is at http://www.chicago-consulting.com/clients/
We approach supply chain design with a well-developed technology illustrated here: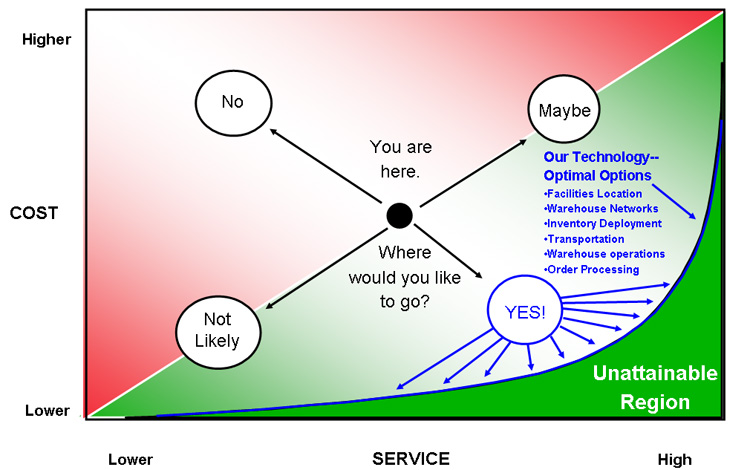 This technology enables us to specify the best possible trade-off between service and cost – the highest service possible for a given cost and the lowest cost for a given service level.  Importantly we are able to specify a set of optimal choices, represented by the curve above.  Armed with these options our clients can choose a level of service or cost and know that it's better than that available from any other approach.
We have developed and use important tools to assist in designing and engineering supply chains.  They include:
Network Design: specifies optimal plant and warehouse networks based on cost and service.  It specifies how many facilities to have, where they should be located, their size, throughput and territories
Site Selection: quantitatively scores and rates sites with flexible weighting factors and multiple criteria such as labor cost and productivity, transportation economics and availability, environmental considerations, talent and incentives.
Warehouse Sizing: specifies warehouse dimensions based on operational characteristics – number of SKUs, order rates, picking methods, pallet positions, inventory turns and so on
Inventory Deployment: that performs two important analyses

– It determines the cost and availability of any stocking strategy
– It specifies the optimal stocking strategy at the item level

Order Processing: Specifies the cost and service of multiple ways to fulfill an order in a complex network; picks dominance and presents trade-offs.
Dynamic Slotting – Specifies where to put away a received item.  Determines the exact position – the lowest level of granularity – rather than by fixed, coarser zones
Optimal Packaging: a CSCMP Innovation Award Finalist in 2008.  This is a set of tools to design packaging that minimizes total supply chain costs – packaging material, warehousing and especially transportation
Market Share Simulation: determines the market-shares of competitors supplying a common marketplace based on a chosen customer buying behavior selected from a menu of options.
We do not sell these tools but frequently leave them with our clients free of charge for them to use as their businesses evolve.
When we encounter a situation for which we do not have an optimizing tool we develop it anew.